Leather Golf Grips
The Hickory Golfer is manufacturing leather golf grips for hickory era iron and wood clubs. The grips are cut from a variety of premium leather between 3-4 oz in weight with a width of 1 1/2 to 1 inches and a length of no less than 32 inches.
Buffalo Smoked Commercial Brain Tanned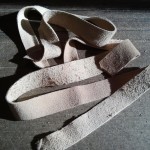 Buffalo is a favorite for many hickory golfers, in particular for those looking for a rough side out grip. It is tough and will hold up well to everyday usage. This grip is well suited for the hickory golfer with it's 3 1/2-4 1/2 ounce weight. Each side is suede-like leaving the installer with a choice of a fuller nap or close cut nap and while the grip is very soft & supple it is very durable. Brain tanned hides are the only hides, that once becoming wet then dry; will remain as soft as they were prior to becoming wet. Another way to look at this is: all other leathers become stiff, after going thru the wet/dry cycle, except brain tanned hides.
This hide is also smoked. When a hide is smoked, the non-water-soluble oil in the smoke bonds with the water-soluble oil in the soup, making all of it non-water-soluble. The smoke provides lubrication to the fingers within the hide, which is what keeps the leather soft. As for the smell, you'll swear the grips has been in a fire or a house the smokes and when you combine this grip with pine tar as part of your installation you'll think you're at a campsite in the great outdoors.
Buffalo smoked commercial brain tanned leather grips are $14.50 a grip.
Cow Hide Leather Grips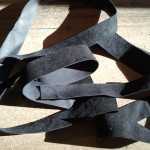 Cow hide is very traditional for hickory shafted clubs. These grips are from a 3 ounces hide Semi-Soft Leather hide. The color is Black and the temper is semi-soft but pliable; with a smooth texture. This grip could be installed either smooth side out or rough side out (my peference). While not as durable as buffalo, the cost is significantly less per hide. I've played with grips similar to these for the past few years. While not as durable as buffalo it's still a good everyday grip for rentals or host sets that you might own.
Cow hide black leather grips are $8.00 a grip.
Shipping
All orders are shipped USPS priority mail within 24 hours of receipt of payment. Shipping price is based upon weight.