Hickory Golf Shafts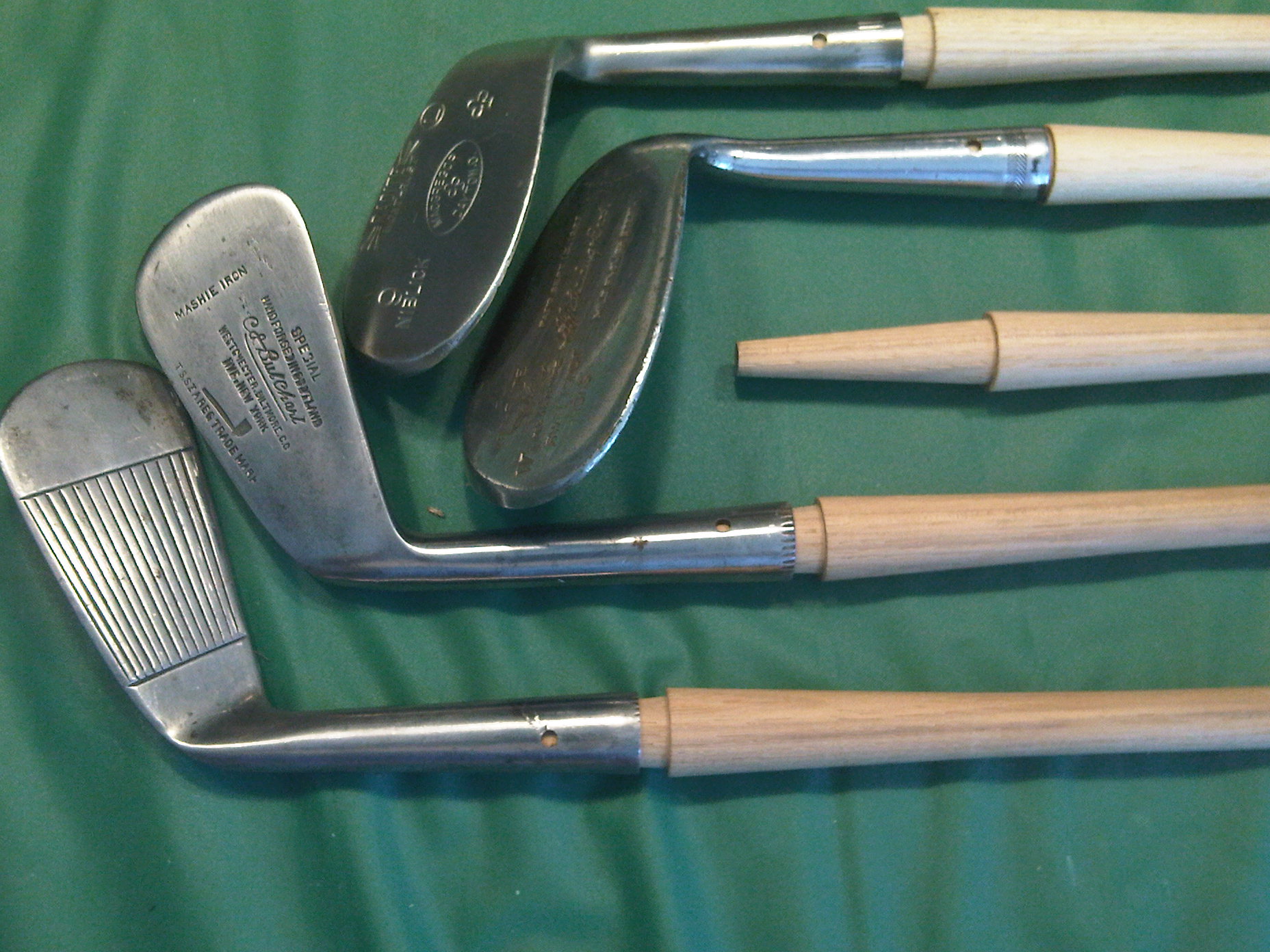 The Hickory Golfer is manufacturing high quality, strong and yet elastic hickory golf shafts as replacement shafts for hickory era iron and wood heads. The shafts are cut on a CNC lathe from hand selected premium hickory planks. Each shaft is individually weighted and hand inspected for straightness of grain and appropriateness for play. Handles of the shaft are the right width so installers can add one layer of friction tape and a user desired leather grip to create a standard grip for use by most golfer. The shaft has a smooth finished sanding that after minor fitting sanding is ready for stain and a protective coating.
Iron Shafts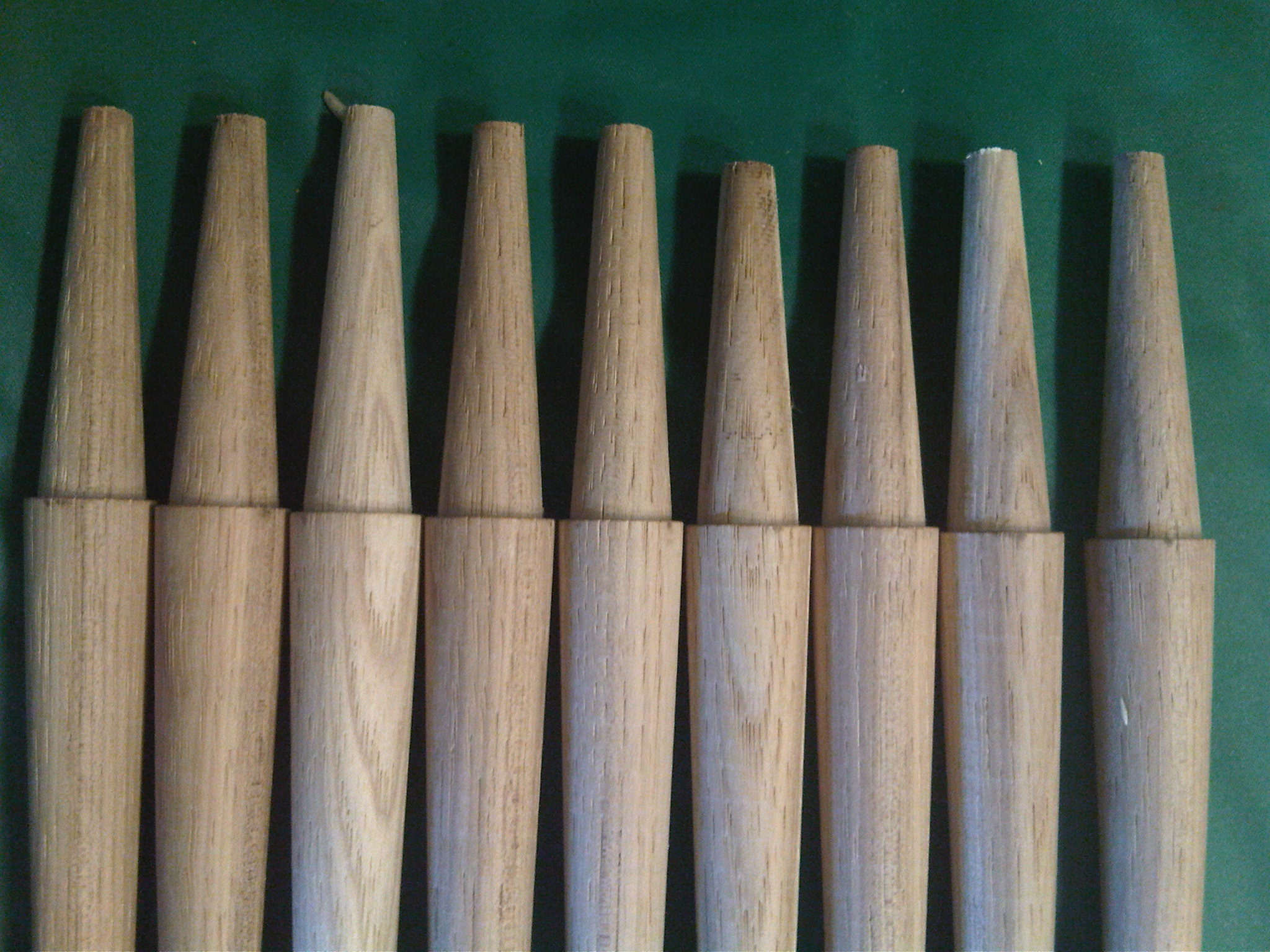 The overall shape of our iron shafts was taken from a composite of several Tom Stewart shafts from the 1920s. The tip of the shaft will fit snuggly into most Stewart irons as well as other iron head manufactures from the hickory era and will allow a maximum shaft length of between 40 and 41 inches depending on the height of the hosel. The installer is expected to perform a small amount of sanding on the cone and the hosel to achieve a perfect fit. Iron hickory shafts are $19.50 a shaft
We have recently been able to offer shafts in a variety of stiffness grades in accordance with the 1929 US Department of Commerce Hickory Golf Shafts Commercial Standard CS18-29. Shafts are graded according to the following table:
| Grade | Minium Load in lbs |
| --- | --- |
| Goose(G) | 40 and over |
| Owl(O) | 34 to 39 inclusive |
| Lark(L) | 28 to 33 inclusive |
| Falcon(F) | Below 28 |
Wood Shafts
The overall shape of our wood shafts comes from a composite of several manufactures shafts including Jack White and Thomas E Wilson. Unlike the iron shaft the wood shaft is a straight with a standard tip that can be sanded to fit into most manufactures from the hickory era. The installer is expected to perform some amount of sanding on the tip to achieve a perfect fit. The maximium length of a raw wood shaft is 44.5 inches in length. Wood hickory shafts are $22.50 a shaft.
Hand Selected Weight
The weight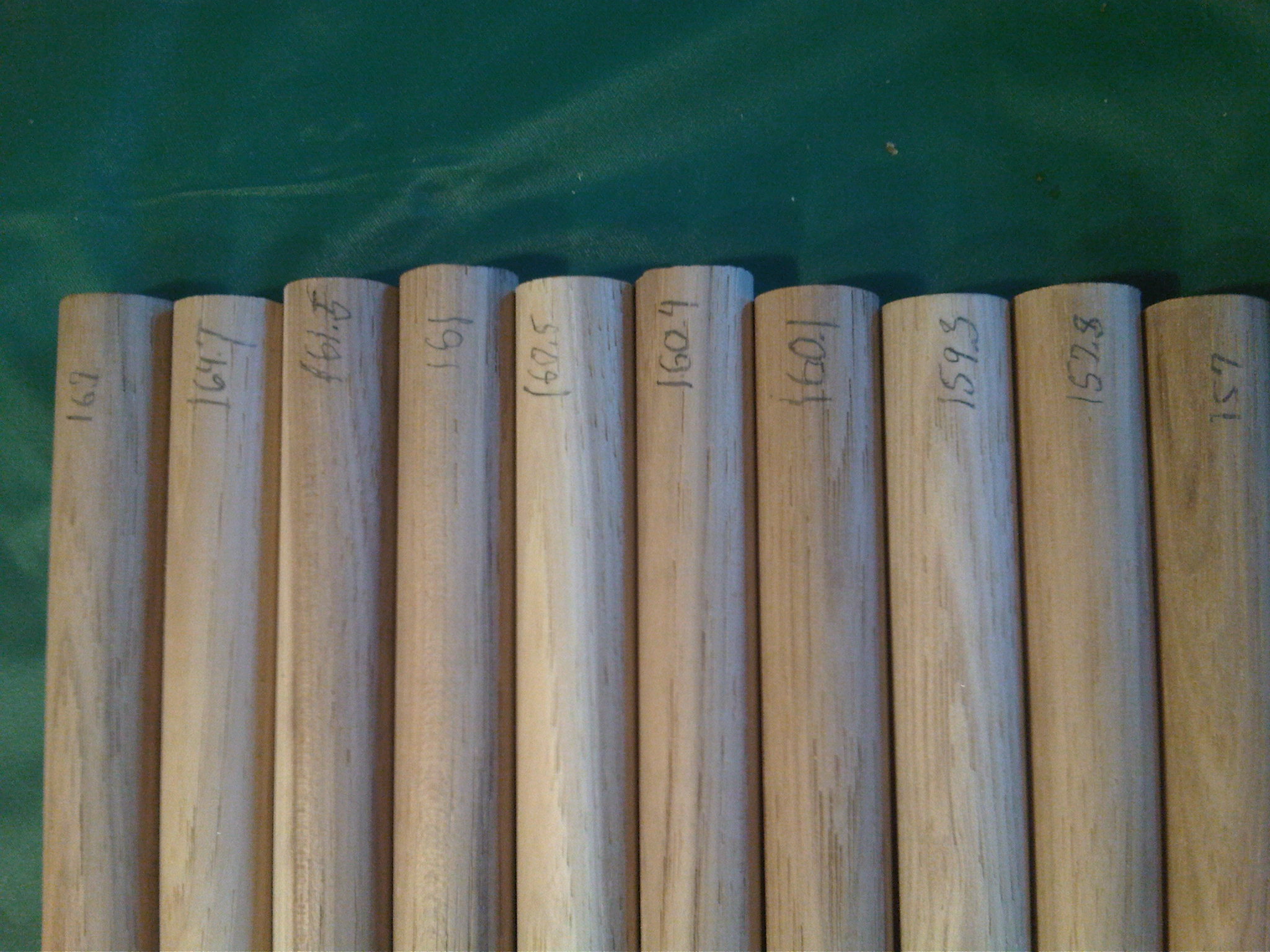 of a hickory shaft is the best criterion of its strength. That said, an installer might want a shaft at a particular weight to enable a matching though Swing Weighting or MOI matching. As an option on each shaft we provide a service to hand select a shaft to within 2 grams plus or minus of the customers desired shaft weight. Shaft weights are measured at the full length of the shaft. Hand selection is $5.00 per shaft.
Custom shafts – While the stock shaft that we have provided will fit most of the clubs we realize that some players may want a custom shaft build. With our CNC lathe this is possible for a one time setup fee. Once the custom shaft has been saved we can reproduce the shaft time and time again at our standard shaft rate.
Shipping – All orders are shipped USPS priority mail within 24 hours of receipt of payment. Shipping price is based upon weight.